AT HEIGHTS – UNDERGROUND – IN CONFINED SPACES
During far too many years we, who work in environments where you need assistance when winching someone or something or to move yourself with a lot of equipment in a three-dimensional world, have been looking for solutions that are worthy of their price, to be able to save resources. It is true that nothing is impossible for an experienced person with unlimited time. But, surely, most of us have wanted access to an efficient Power ascender, haven't we?
There are some very good Power ascenders in the market, but unfortunately so expensive that it makes it difficult to motivate the cost.
Without lowering their standards of quality and function,  a team of qualified and experienced engineers have now succeeded in producing an ascender which is considerably cheaper to purchase and to own than any similar products on the market.
Go halves when obtaining a power ascender, or buy twice as many with the same budget. An ascender will have the effect that your personnel will have more power left for other work. Their efficiency will increase significantly. The shifts will not be as heavy and the projects will be more profitable.
Mr Ronin suggests:
Get your personnel an ascender each and get the job done quicker.
Stop competing about contracts by offering "lowest price". Instead, offer to solve to task quicker than others. No one likes roped-off areas that prevent traffic, pedestrians or entrepeneurs that have to remain still and wait for you to be finished.
In this context, time really is money!
An MR400 is a true helper. It weighs relatively little, is quick and is transported well packed in a hard-wearing case.
Mr Ronin's Pro Kit (Professional Kit) is the ultimate product for professionals.
Mr Ronin offers a new way of thinking, planning and carrying through of high altitude work.
SOME AREAS OF APPLICATION
NEW THINKING
Mr Ronin visualizes how this Power ascender might change many methods of working which are today carried out with completely different equipment. One example: Those who work with tripods and winches to enter into manholes.
The depths of work for these winches are limited to the fixed length of the wire. With an MR400 the depths admitted by the ropes you have brought can be reached.
Think new, think smartly, work efficiently.
Rope Access
Telecom
Wind Power
Rigging
Confined spaces
Professional Photographers
GEO-Research
Via Ferrata
Arborist
Action Parks
Rope Access
During several years, professionals have used Power Ascenders to work faster and more efficiently. Mr Ronin now wants to offer more entrepeneurs and professionals increased access to these machines.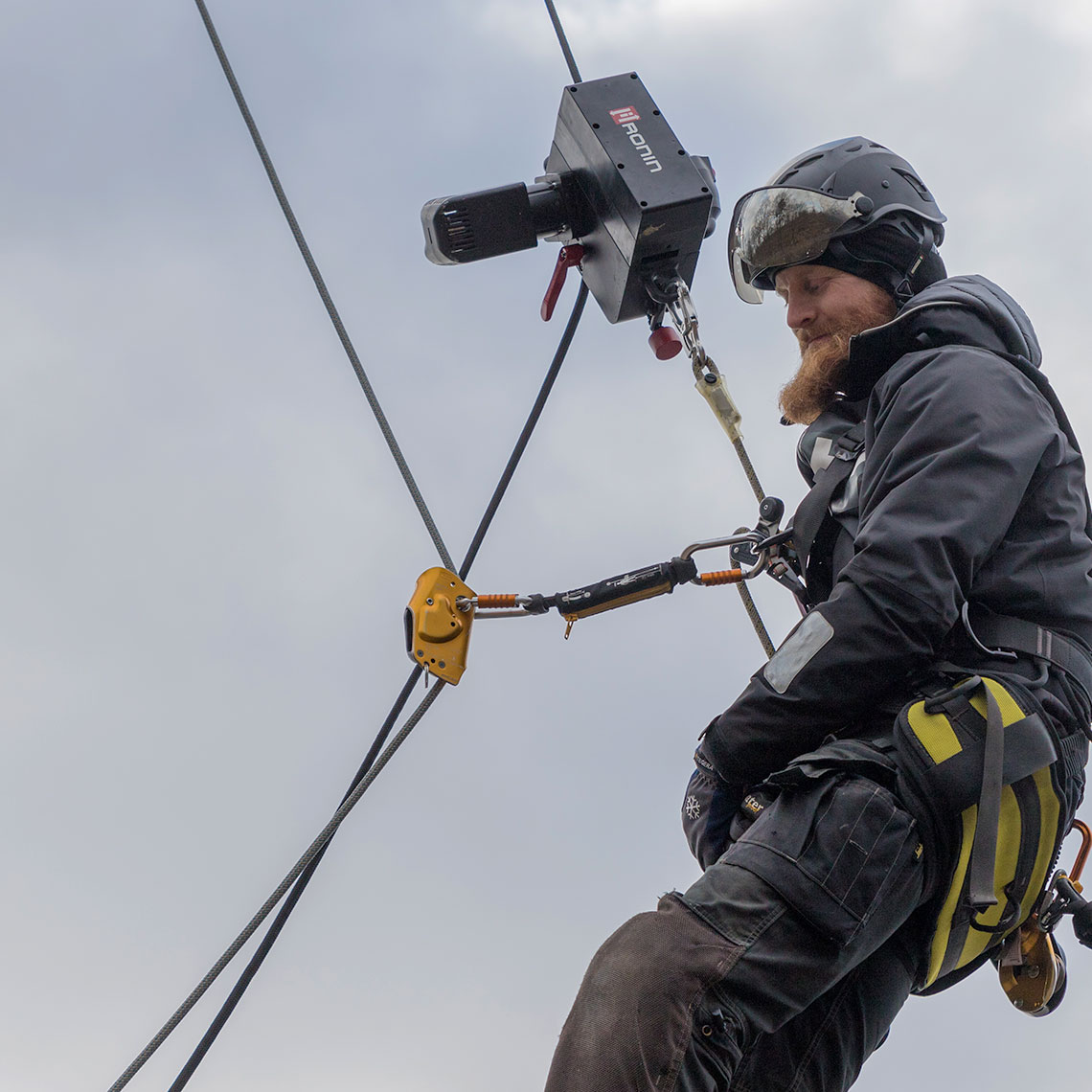 Wind Power
This working environment is challenging in many ways. The height and size of the power station vary. Many are land-based, but the number of power stations at sea is increasing constantly. Some are quite new and consequently high tech on the inside, but still difficult to climb on the outside. A Power Ascender facilitates blade inspections, repairs and other rope work.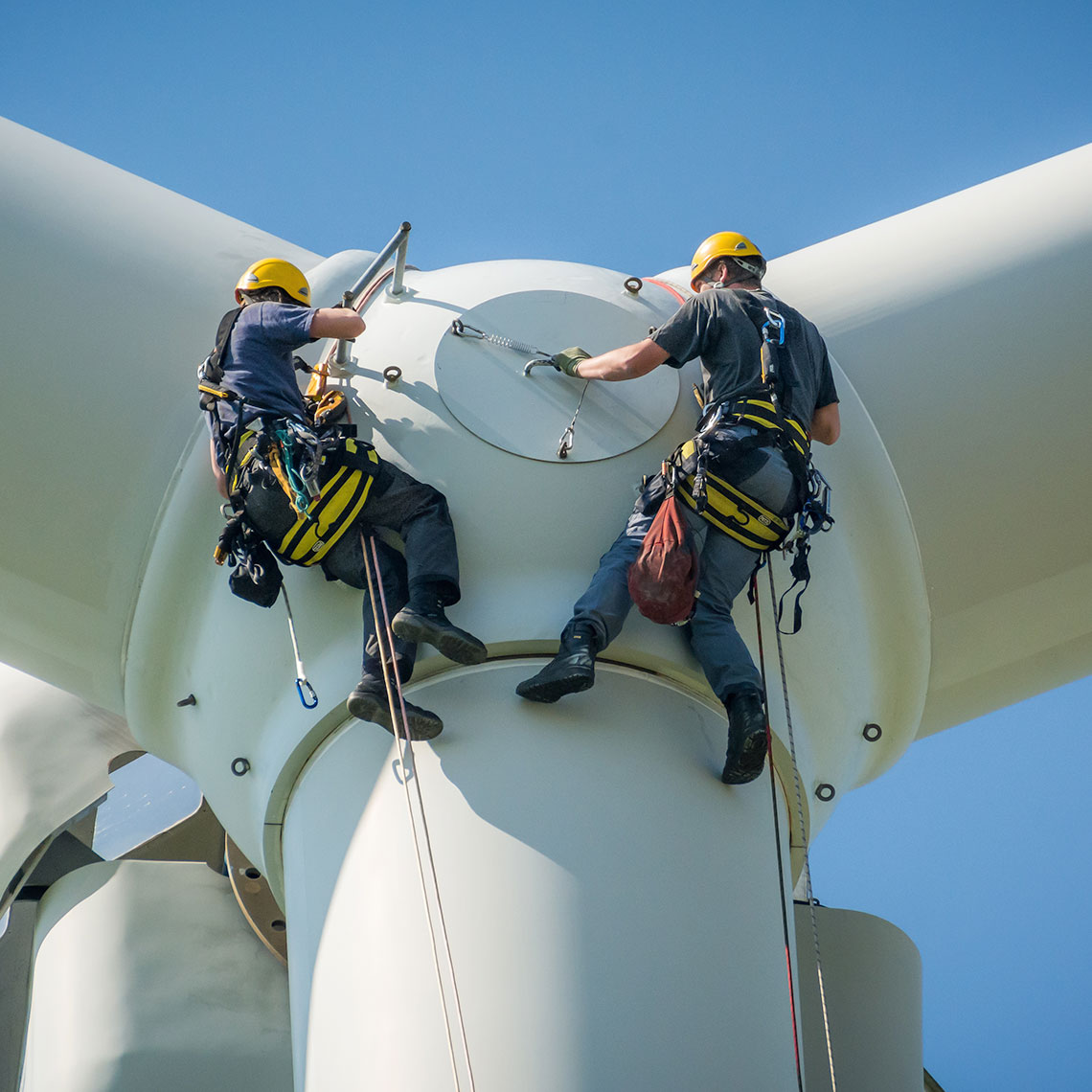 Telecom
The height of the masts vary. The size of links, modules, stays and ice slip protection differs. Wind and weather change. What remains, however, is the importance of being able to winch objects steadily up and down without them hitting the mast. Nothing must be damaged. To secure the work, summer as well as winter, with a Power Ascender is the best possible solution.

Rigging
Mr Ronin has, on a number of occasions, performed difficult montage at an altitude where the personnel has used double Power Ascenders, one at each end of the object that is winched into place. The result is an even and stable installation.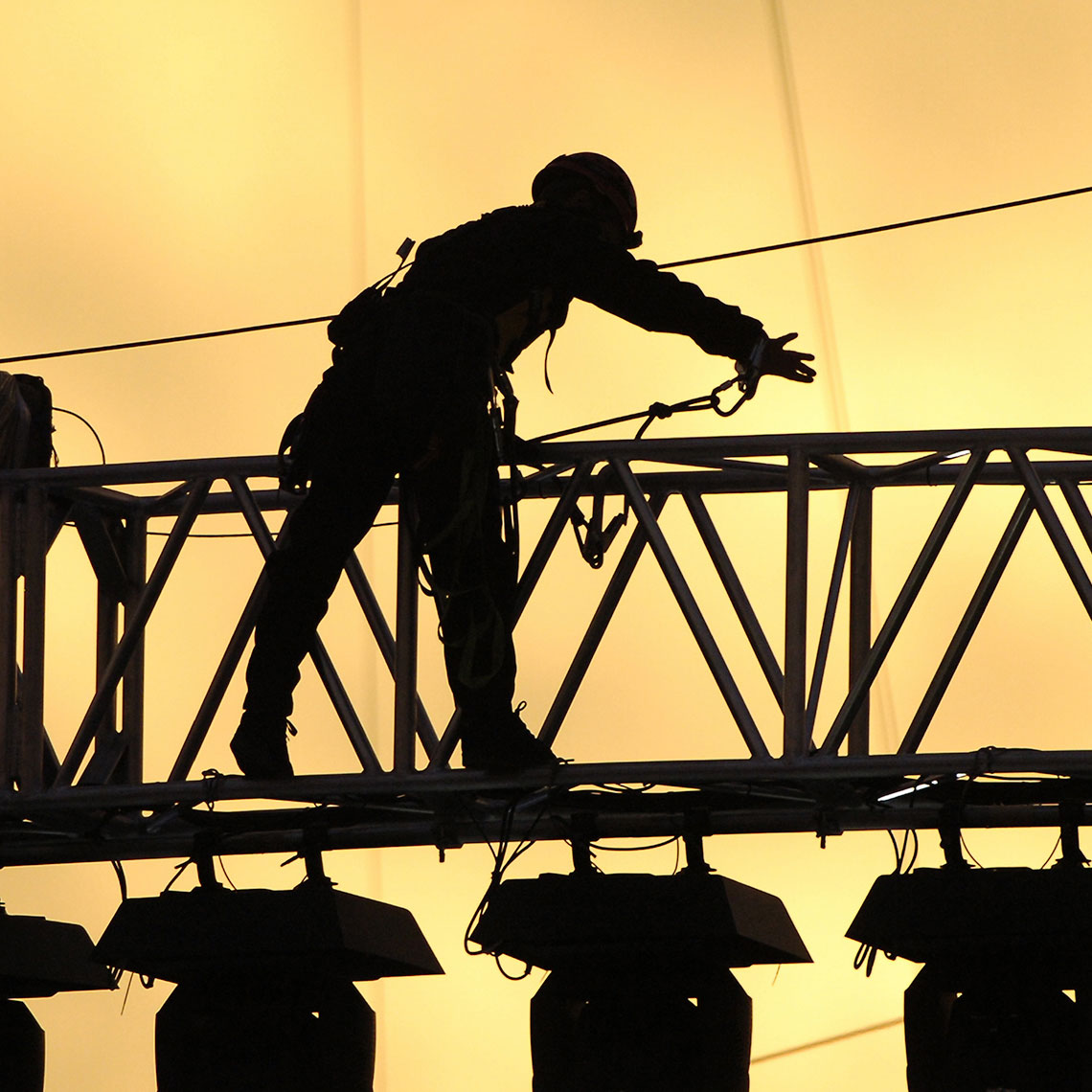 PROFESSIONAL PHOTOGRAPHERS AND NEWS TEAMS
TV and news reporters become more and more daring in their reporting. Cameramen must get high up or down underground. To bring a complete Pro Kit might be advantageous. In the film industry advanced shootings in a difficult environment are often made. Personnel and equipment must come in place safely. For these situations, Mr Ronin can hire out a machine and an operator responsible for security.
Confined Spaces
Mr Ronin has a flexible machine holder for Tripods. By using ropes and a Power Ascender instead of a winch, your possibilities of advanced access, quick evacuation and heavy rescue are increased. Think new, think smart and work safer!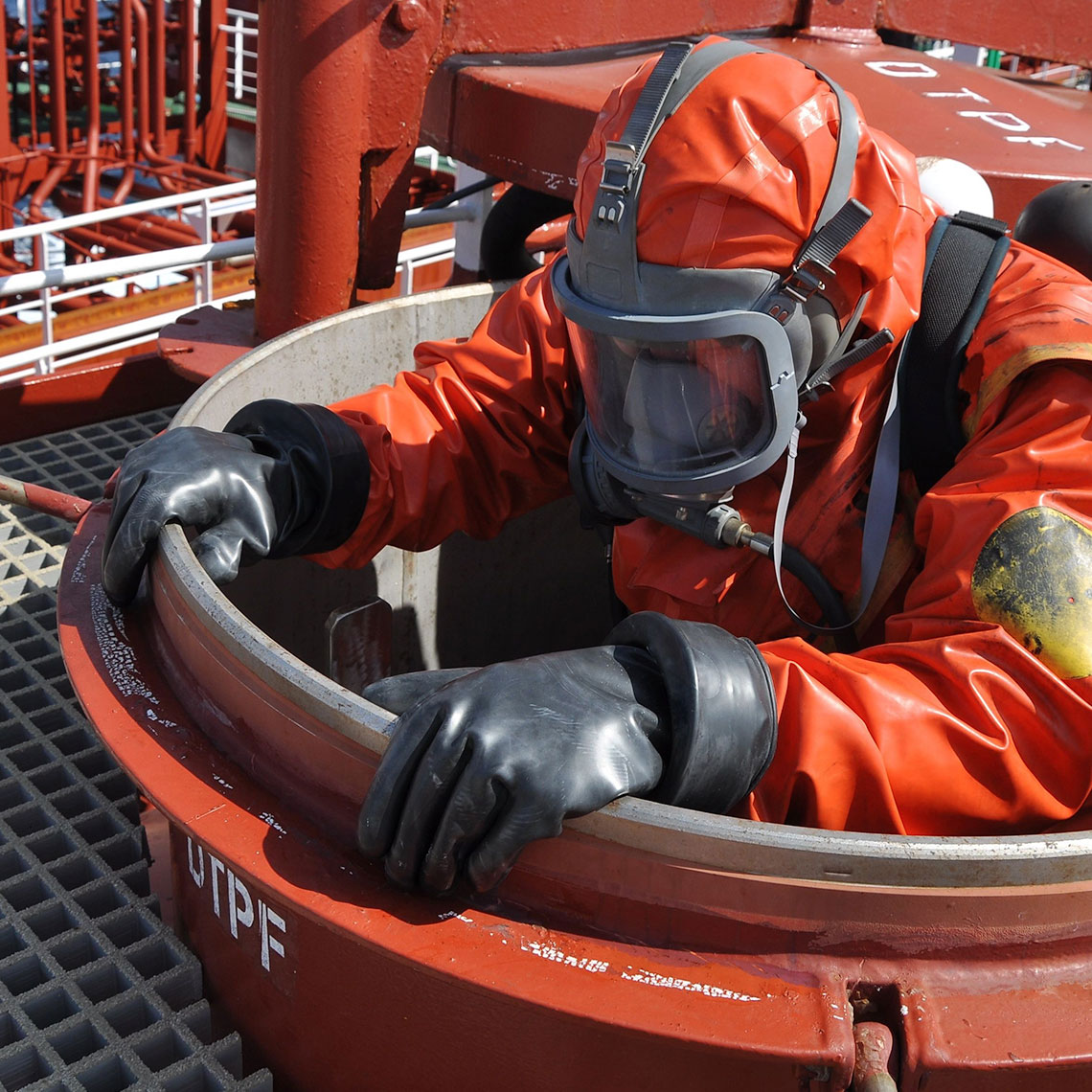 GEO RESEARCH
For those who must go down in pits or shafts this Power Ascender has "opened new doors". Never before have the possibilities of such flexible, quick and simple access been greater. Mr Ronin supplies ropes that are 500 m long. It will take you only 11 minutes to ascend from a depth of half a kilometer. All that it takes to be able to do that, can be carried by hand.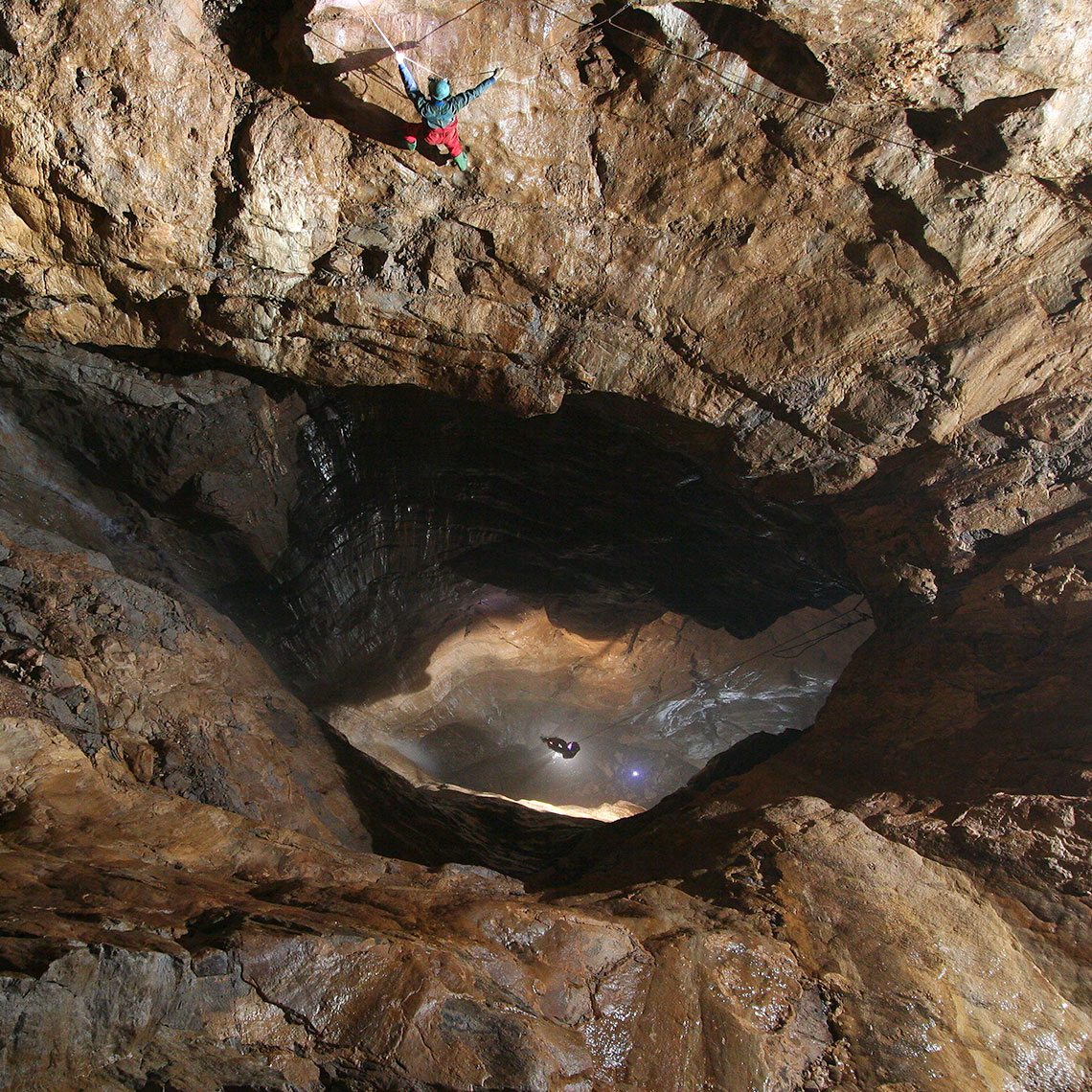 Via Ferrata
A Power Ascender facilitates the building of new routes. Furthermore, it is helpful if a person is injured or cannot get away from his or her position. It might be a good idea to have your own solution in a neat bag when the rescue service may have a long way to go.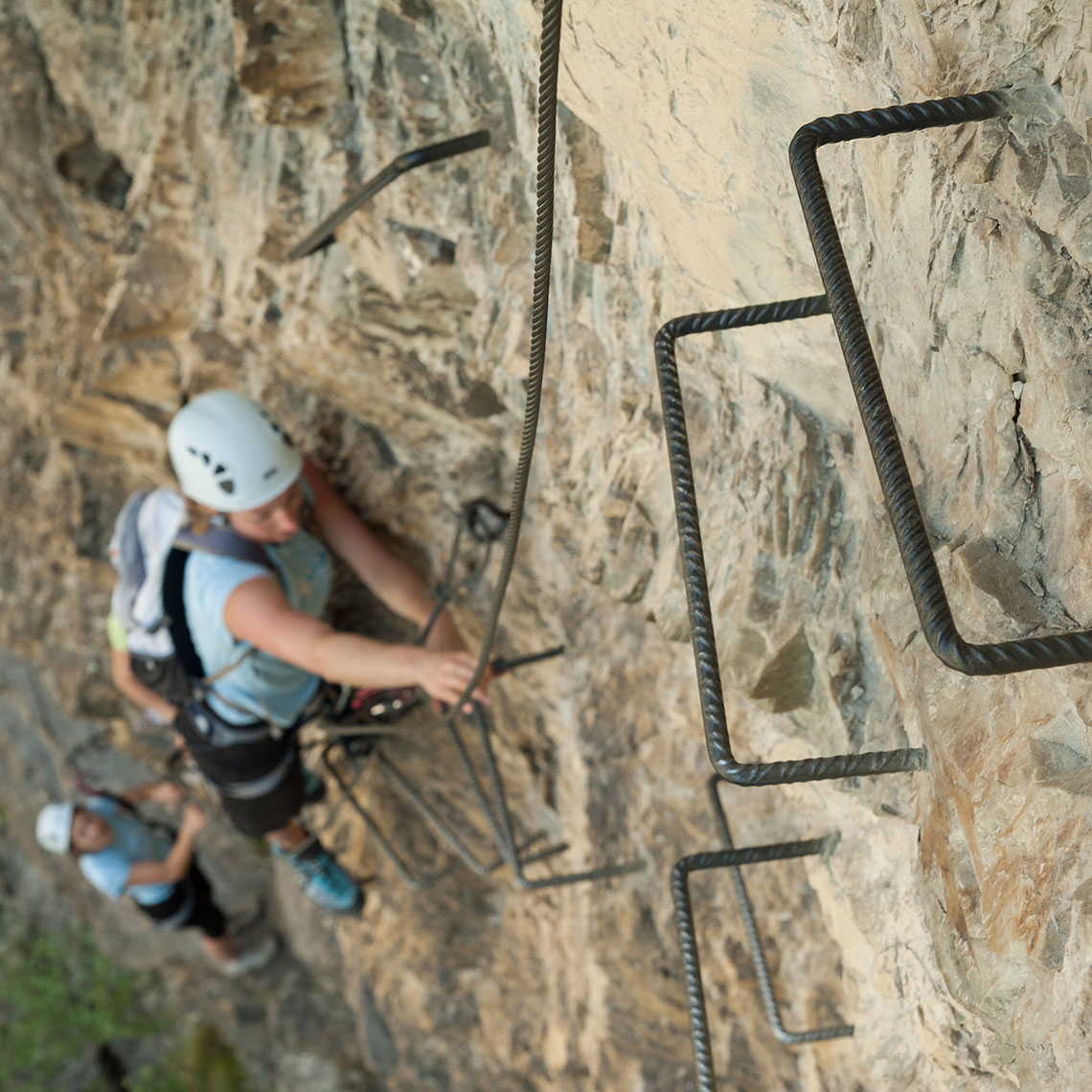 Arborist
There is a lot of going up and down in one day when climbing high trees and very few are as good rope climbers as arborists. But why say No thank you to a tool that saves power? An MR400 Power Ascender is strong, can handle ropes with a diameter of up to 13 mm and can be used for more than just climbing.